20" Bug 7pcs Clip In Indian Remy Human Hair Extensions
STATUS: IN STOCK SKU:
HP924
Start With: $69.95

Wholesale Customer Inquiry
Quick Overview
TYPEClip In Hair Extensions
MaterialIndian Remy Hair
ColorBug(#Bug)
Length20 Inches
TextureStraight
Quantity7 Pieces
Weight70g
Product Description
Life6 To 12 Months
Clips16
Contents

One 8" wide wefts(4 clips per weft)
Two 6" wide wefts(3 clips per weft)
Two 4" wide wefts(2 clips per weft)
Two 2" wide wefts(1 clip per weft)
Product Description
Clip in hair extensions are the easiest and quickest way to put on more volume and add the substantial length to your hair. A simple clip attached makes it easy to wear the extension in no time. It is perfect for women who have a very busy schedule. As no color is added, the extension retains its originality and natural charm. It is safe for your normal hair and scalp as there is not chemical in the process to gain a beautiful look.
The clip in hair extensions are by far the best alternative to your natural hair and an excellent substitute for the permanent types of hair extensions. Clip in hair extensions are a revolution and boon for those looking to add more volume and length while retaining natural glimmer and appearance of your hair. With the clip in hair extensions, it is easy to have longer, thicker, more voluminous and glamorous in just a few seconds.
Made of fine grade Indian Remy hair, the clip in hair extensions can easily be styled, curled or straightened as desired. Remy hair is high-quality hair and incredible ability to withstand wear and tear to climatic factors such as dust, sunlight, etc. The hair is unprocessed and so can be tinted with a color to match your style perfectly. It can be washed or shampooed as you normally do with your original hair. Since all the hair cuticles are placed in the same direction, the hair remains undisturbed, making them more durable and long lasting.
NEED HELP? CALL US
Call Toll-Free +1 (800) 832-0618
Mon-Fri, from 9AM - 6PM CST
Shipping

Standard Express Shipping: 7-10 Business days
Fedex Express Shipping: 5-7 Business days
DHL Expedited Shipping: 2-3 Business days
PAYMENT
PRODUCT SHOW
OVERVIEW
| | | | |
| --- | --- | --- | --- |
| LIFE | 6 To 12 Months | Brand | Parahair |
| Color | Bug (#Bug) | Weight | 70g |
| Material | Indian Remy Hair | Length | 20 Inches |
| QTY | 7PCS | Clips | 16 |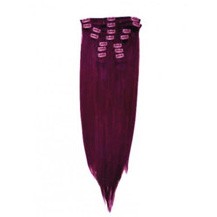 How to
Apply
step1

Make a split section horizontally in the hair. Start at the bottom of your neck and work your way up.

step2

Comb the back of your hair close to your scalp, this will help the EXTENSION CLIP stay in better.

step3

Open and close the CLIP-IN EXTENSION by bending them.

step4

Attach the CLIP-INS one by one on the entire section. Always start from bottom and work your way upwards.

step5

Fabulous in only a few minutes!
Quality

Value

Price

Support

Overall

Impressed with the quality Reviewed by Erika(Posted on Tue,Jan 18 2022)

Quality

Value

Price

Support

Overall

recommendation Reviewed by Emma(Posted on Wed,Dec 29 2021)

Quality

Value

Price

Support

Overall

highly recommend Reviewed by wendy(Posted on Tue,Nov 30 2021)

Quality

Value

Price

Support

Overall

best ever Reviewed by ashley(Posted on Mon,Sep 20 2021)

Quality

Value

Price

Support

Overall

so impressed!!!!! Reviewed by tina(Posted on Wed,Jun 9 2021)

Quality

Value

Price

Support

Overall

Excellent Reviewed by ellen(Posted on Tue,Jun 1 2021)

Quality

Value

Price

Support

Overall

YOU GET WHAT YOU PAY FOR- WORTH EVERY PENNY! Reviewed by Melissa (Posted on Sun,Nov 8 2020)

Quality

Value

Price

Support

Overall

Para is outstanding!!!! Reviewed by Taylor Medfo(Posted on Wed,Sep 9 2020)

Nickname*

Summary of your Review*
HOW TO APPLY CLIP IN EXTENSIONS
Step: One

Your extensions must match not only the color but also the texture of your hair. While blow-drying, Alyssa used a large round brush to give her real hair the same loose waves as the hairpiece she chose.

Step: Two

Separate your hair into upper and lower sections. Start parting it at your left temple and move across the back of your head in a straight line to the right temple. Use a clip to secure the upper section of hair on top of your head.

Step: Three

If your hair is fine or very straight, tease it along the bottom of the part line with a fine-toothed comb. This will help keep the clips secure. First tease a one-inch section of hair in the middle of the part, then one-inch sections on both sides, just above your ears.

Step: Four

Extensions is attached with three clips across the top and four around the bottom. Keep all seven clips are open, then line up the top seam of the netting with your part and attach the top middle clip. Push it down into the teased hair,then press it flat against your scalp.

Step: Five

Line up the piece along the part on both sides of your head, pulling it taut against your scalp, and attach the two side clips, one above each ear.

Step: Six

Attach the four lower clips along the lower half of your hairline, around the nape of your neck. Let down the top section of hair and use your fingers to blend it with the extensions.
HOW TO REMOVE YOUR HAIR EXTENSIONS
Simply open the clip by gently pulling backwards until you hear the clip release. Then gently remove the section being careful not to pull your hair. It is suggested to move the placement of your sections slightly every couple of wearing. This will allow the clip to rest in a different area preventing too much stress on your hair.
Shampooing should be done only after 4 to 5 uses.
Gently detangle thoroughly from ends to clips with a pick or wide tooth comb before washing Clip-in Hair Extensions.
Use a gentle flow of water holding your Hair Extensions by the clip allowing the water to run down the hair shafts (does not scrunch or tangle hair).
Carefully shampoo with tepid water and moisturizing or detangling shampoo. Do not rub or twist the hair. Gently squeeze shampoo through hair from clips to ends. Rinse thoroughly.
Gently squeeze out excess water and pat or squeeze dry with towel. Do not roll or rub hair dry in towel.
Gently detangle again with a pick or wide tooth comb. Start with the ends and work upward to remove any tangles (being careful not to pull too hard).
Do not brush when wet.
We recommend you let your Hair Extensions air dry. If you do choose to blow dry, use the low cool setting.
Store with clips closed to avoid tangling.
Multiply payment methods are available now. Each of them are secure and easy to go with
1.Pay via paypal express
You will be redirected to PayPal website and pay directly with your paypal account if you have one. it is very fastest way to completle the payment.
2.Pay via paypal Standard
You will be redirected to PayPal website when you place an order.
If you have a paypal account, you can log in your account and pay with it.
If you don't have paypal account, it doesn't matter. You can also pay via paypal with you credit card or bank debit card.
Payment can be submitted in any currency.

3.Pay via Credit Card / Visa, Mastercard, AMEX, JCB, Diners
Note: Please choose one payment methods at your convenience. Remember to try another if you can not go through one. Don't Worry! we only charge you once. the order will be cancelled automatically if your payment didn't go through.
Quality of Our Extensions
Q.
What type of Hair is used in our Hair Extensions?
A.
We used 100% Remy Human Hair in our Extensions. Nothing beats the versatility of human hair extensions. Human hair, unlike synthetic hair can be straightened with a flat iron, curled with heat, or chemically treated to perm or dye the hair. Thin and fine hair becomes full and thicker. Short hair transforms to long, luxurious hair. We guarantee that the hair we sell is 100% Natural Human hair.
Q.
Is your hair Remy, and what is the difference from other hair?
A.
Yes, we use Remy Hair in our extensions. The term 'Remy' or 'Remi' means 'Cuticle correct'. This means that only the finest virgin (Untreated & not previously coloured) hair is used. The hair differs from normal 'Silky' hair that's available on sale, because it is hand picked & aligned so that every single strand runs in the same direction that it grows from the scalp. This ensures that the cuticle on each hair is running the same way (downwards), in order to keep the hair shiny, soft & truly tangle free. After picking & aligning, the hair goes through a gentle but very complicated treatment process, to colour, straighten or wave the hair in the best way. 'Silky' hair has the cuticle removed; whereas 'Remy' hair has the cuticle still intact. So although 'silky' hair is still fabulous for extensions, 'Remy' has a shine like no other & will not matt or tangle when worn for long periods.
Care and Usage
Q.
Can they be straightened, curled or tongued?
A.
Yes, simply because it's real human hair you can straighten and curl the hair. This actually is a test in itself to know if you are not being sold a synthetic product.
Q.
Can I shampoo them and how often should I do that?
A.
Wash them as you would your own. Shampoo and conditioner. Nothing fancy. Please see our Clipin Guide for detailed instructions.
Q.
Can I dry the hair with a hair dryer or use tongs?
A.
Treat the hair as if it is your own. Use a hair dryer or tongs, even when fitted. But as with your own hair, never use a hairdryer or tongs too hot. You will dry the hair and it will not last as long.
Q.
Can I colour the hair?
A.
Yes. The hair can be coloured. As a general rule it is easier to darken the hair than to lighten the hair. But blonde hair has been bleached more so more caution must be taken. Always use a good quality hair dye and test a small sample first.
Q.
How long does hair extensions usually last?
A.
The extensions are human hair, so they last as long as you want them to. If you look after your hair it is not uncommon for quality extensions to last up to twelve months. If not treated with respect they will need to be replaced every three to six months. The more you look after them the longer they will last.
Q.
Will people be able to see if I am wearing clip-in extensions?
A.
The beauty of clip in extensions is the natural look that can be achieved with them. Once fitted they are a perfect blend with your own hair.
Q.
What is wefted hair extensions(weaving)?
A.
Wefted Hair Extensions are simply a curtain of hair used to layer in to your own hair to add color, length and or volume. There are several application methods to choose from to apply the wefts.ParaHair provides only superior quality 100% Remy and Non-Remy Wefted Human Hair Extensions in a multitude of colors to blend with your own hair. Hair Extensions Wefts are machine sewn or hand-tied, straight or curly and are available in 14" to 32" lengths. Wefted Hair Extensions can be applied using various professional or Do-It-Yourself application methods such as sew-in, weaving, bonding, tape-in, or clip-in. With proper care, Wefted Hair Extensions can be used over and over and are an affordable way to achieve endless styling possibilities. Try wrapping Wefted Hair Extensions around your own ponytail to create the illusion of a longer, fuller ponytail or add overall length, volume and color. Hair Extension Wefts are a perfect solution to achieve sought after red carpet celebrity hairstyles!
Q.
What is the payment methods do you accept and is it safe?
A.
We accept payment by Paypa, credit cards and Western Union. a. PayPal protects your financial information with industry-leading security and fraud prevention systems.b. Buy online with any major debit or credit card. It's free, simple and secure. c. Once your payment is complete, PayPal email you a receipt and link you to our download page.
Shipping Method
Flat Rate
Delivery Time
Area
Standard Express Shipping
$9.95


(Free Over $99)

7-10 business days
Hong Kong, Macau
7-10 business days
Japan, P.R Korea, R.Korea, Mongolia
7-10 business days
Cambodia, Indonesia, Malaysia, Philippines, Singapore, Thailand, Vietnam
7-10 business days
Australia, New Zealand, Papua New Guinea
7-10 business days
Austria, Belgium, Denmark, Finland, France, Germany, Greece, Ireland, Italy, Luxembourg, Malta, Norway, Portugal, Spain, Sweden, Switzerland, U.K.
7-10 business days
Canada, U.S.A.
Please contact us shipping cost
Other country buyer
Fedex Express Shipping
$15.95


(Free Over $139)

5-7 business days
Hong Kong, Macau
5-7 business days
Japan, P.R Korea, R.Korea, Mongolia
5-7 business days
Cambodia, Indonesia, Malaysia, Philippines, Singapore, Thailand, Vietnam
5-7 business days
Australia, New Zealand, Papua New Guinea
5-7 business days
Austria, Belgium, Denmark, Finland, France, Germany, Greece, Ireland, Italy, Luxembourg, Malta, Norway, Portugal, Spain, Sweden, Switzerland, U.K.
5-7 business days
Canada, U.S.A.
Please contact us shipping cost
Other country buyer
DHL Express Shipping
$21.95


(Free Over $200)

3-5 business days
Hong Kong, Macau
2-3 business days
Japan, P.R Korea, R.Korea, Mongolia
2-3 business days
Cambodia, Indonesia, Malaysia, Philippines, Singapore, Thailand, Vietnam
2-3 business days
Australia, New Zealand, Papua New Guinea
2-3 business days
Austria, Belgium, Denmark, Finland, France, Germany, Greece, Ireland, Italy, Luxembourg, Malta, Norway, Portugal, Spain, Sweden, Switzerland, U.K.
2-3 business days
Canada, U.S.A.
2-3 business days
Other country buyer